ABOUT KANE COUNTY AUDUBON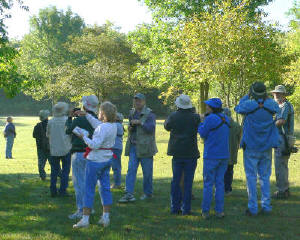 A Saturday morning KCA birdwalk at LeRoy Oakes Forest Preserve in St. Charles.
Welcome! Kane County Audubon Society is a local chapter of the Illinois Audubon Society. We are a group of more than 100 people who enjoy watching and studying wildlife of all types. People of all ages and skills are invited to meetings and to participate on walks. All activities are open to the public. Monthly meetings are bird-oriented, but may concern other aspects of nature. Meetings are held the second Wednesday of each month. From September through May we meet at 7 PM in the new Hickory Knolls Discovery Center at James O. Breen Community Park on the west side of St. Charles. Here's a map. During the summer months we gather at 6 PM at local nature areas for field trips. (See the calendar for details.) Please join us.
This page last updated Sunday December 08, 2013.
Copyright 2006 - 2015 for all content of www.kanecountyaudubon.org
Kane County Audubon, 513 S. 13th Ave., St. Charles, IL 60174
Please report problems to kca webmaster