Here's the latest...

Upcoming at KCA:
| | | |
| --- | --- | --- |
| Next Activities: Saturday, September 23, 8 AM, Bird Walk @ Hickory Knolls Discovery Center, St. Charles. (Map) Contact: Jon @ 630.584.5891. | | Next Meeting: Wednesday, October 11, 7 PM, Hickory Knolls Discovery Center, St. Charles. Speaker Pat Ward on "The River of Raptors," the spectacular fall raptor migration through Vera Cruz, Mexico. (Map) Contact: Bob @ 630.584.8386. |
---
Kane County Audubon Chimney Swift Sit - by Marion Miller
The Chimney Swift Sit on Tuesday 9-19-17 had a good showing of both Swifts and participants. 452 Swifts went to roost in the Lincoln Elementary School chimney from 7:13p to 7:24p. 34 people enjoyed the show and at least 10 of these participants had never seen a Chimney Swift before this evening. At first, when the numbers were small, the group was counting the roosting Chimney Swifts out loud and in unison. But as the Swift entrances increased the group became silent and the serious counters concentrated on counting those rapidly flying Swifts. We thought we were finished with the count when an additional 75 Swifts flew in as a group from the NE. I personally had never seen a large group come over so late and fly in at the end. Perhaps they had tried to fit into a chimney down the street and a "No Vacancy" sign was posted. Good show once again. Thanks Bob Andrini and KCA for making this event possible.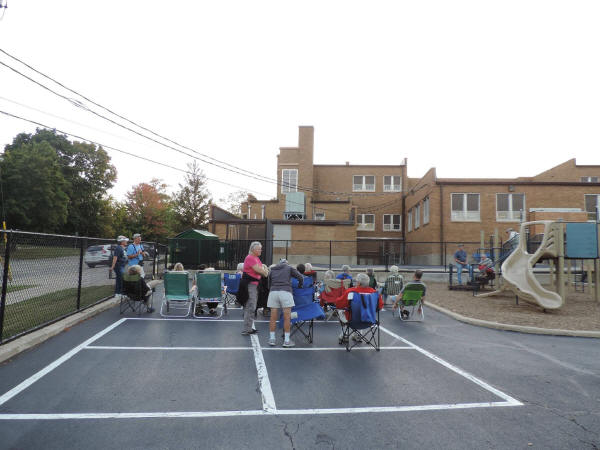 Some of the participants awaiting the arrival of the Chimney Swifts
at the Swift Sit at Lincoln Elementary School in St. Charles
---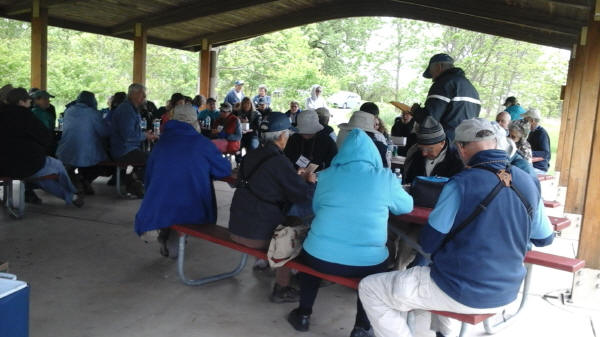 Birders compiling the weekend's birding totals for the 2017 IAS "Spring Gathering."
Photo courtesy Susan Malkowski.
After Kane County Audubon did a bang-up job of hosting the Illinois Audubon Society's "Spring Gathering" on May 19 - 21, President Bob Andrini issued this thank you to KCA members:

A very big THANK YOU to all the KCA members who helped support our hosting of the annual Spring Gathering for the IAS. 191 registrations, 138 meals on Friday and 154 meals on Saturday were only possible because of the MANY hands that worked together.
Although we only birded for a few hours on Saturday (due lightning - we did bird in the rain), and about 3 hours on Sunday, we still saw an amazing 139 species of birds. With the strange warbler migration we have been experiencing, we still saw 22 species of those amazing birds.
Thanks go out to many: trip leaders, food handlers, set-up crew, take down crew - and the list goes ON AND ON AND ON.

THANK YOU ALL - personally and from the KCA Board
---
Fall back into easy reading. Our newsletter editor (and veep), John Sprovieri, has compiled and released the 2017 Fall edition. You may read it by clicking here.
---
---