Here's the latest...

Upcoming at KCA:
| | | |
| --- | --- | --- |
| Next Activity: Saturday, February 24, 8 AM. Birding Country Roads by car, depart Hickory Knolls Discovery Center, St. Charles. (Map) Contact: Jerry @ 630.377.1444. | | Next Meeting: Wednesday, March 14, 7 PM, @ Hickory Knolls Discovery Center, St. Charles, Tih-Fen Ting, Ph.D., associate professor of environmental studies, University of Illinois Springfield. will speak on "Osprey Relocation in Illinois." (Map) Contact: Bob @ 630.584.8386. |
---
Nancy Schnaitman, KCA secretary, has transcribed her notes of the January membership meeting, and offers her minutes here.
---
With the advent of a new year comes the publication of the 2018 winter edition of the KCA newsletter. Read it by clicking here.
---
Kane County Audubon Announces New Trip
by Paul Mayer
COMING SOON: A SEASHORE NEAR YOU, May 23-31, 2018
On our last trip in June 2016, ten members of KCA had a wonderful time in Alaska where they saw 119 species of birds with 248 cumulative lifers. And now, plans are just about finished for another adventure in 2018. A Seashore Near You is going to be a 800+ mile mid-Atlantic, coastal birding trip that will start in Cape May New Jersey and end in Raleigh Durham, North Carolina. The nine day trip from May 23, 2018 thru May 31, 2018 will follow the East Coast and visits will be made to several birding hotspots amongst which will be Cape May, Prime Hook State Wildlife Management Area, Chincoteague NWR, Cape Hatteras, Cedar Island NWR, and Croatan National Forest. The focus will be on shorebirds, coastal passerines, pelagic birds, and rails found in the wetlands, forests, and off-shore environs of the mid-Atlantic States. Major targets will include Red Knot, Piping Plover and Clapper Rail plus Seaside, Nelson's, Bachman's and Saltmarsh Sparrows; Cory's, Great, Manx, Audubon's Shearwaters and Black-capped Petrels. And don't forget the real rarities that show up from time to time including Herald, Bermuda, and Fea's Petrels; White-tailed and Red-billed Tropicbirds; Ruff, Little Egret, Bar-tailed Godwit, Common Ringed-Plover and European Storm-Petrel.
The trip will be limited to nine participants plus the leader. So, if you're interested in going, here's how to get started:

1. If you are getting this newsletter via email, click on this link to "A Seashore Near You". Read the General Information page, the Itinerary, and the Registration and Indemnity forms. A new addition to our adventures is the off shore pelagic trip so also be sure to read the paragraph regarding the pelagic portion of the trip on the General Information page. Then if all looks good call or email Paul Mayer at 630-209-6019 or mayersbirds@comcast.net and let him know of your desire to go. Your name will be put on the list. This is a first come first serve basis.
2. If you are getting this newsletter via USPS and want to go, call Paul Mayer at 630-209-6019, let him know of your intention. He will put your name on the list and send you copies of the General Information, Itinerary and Registration and Indemnity forms.
3. You will have 10 days after contacting Paul to submit your registration form along with the deposit of $300. The remainder of the cost is due March 23, 2018. Details are found on the Information page.
4. We must have a minimum of 7 and a maximum of 9 participants for the trip. If a minimum of seven people are not signed up by December 15, 2017, the trip will probably not go.
5. Dates are May 23, 2018 thru May 31, 2018. Travel details are seen on the general information page.
Click below for the full story:
General Info
Itinerary
Registration and Indemnity Forms
---
Kane County Audubon Chimney Swift Sit - by Marion Miller
The Chimney Swift Sit on Tuesday 9-19-17 had a good showing of both Swifts and participants. 452 Swifts went to roost in the Lincoln Elementary School chimney from 7:13p to 7:24p. 34 people enjoyed the show and at least 10 of these participants had never seen a Chimney Swift before this evening. At first, when the numbers were small, the group was counting the roosting Chimney Swifts out loud and in unison. But as the Swift entrances increased the group became silent and the serious counters concentrated on counting those rapidly flying Swifts. We thought we were finished with the count when an additional 75 Swifts flew in as a group from the NE. I personally had never seen a large group come over so late and fly in at the end. Perhaps they had tried to fit into a chimney down the street and a "No Vacancy" sign was posted. Good show once again. Thanks Bob Andrini and KCA for making this event possible.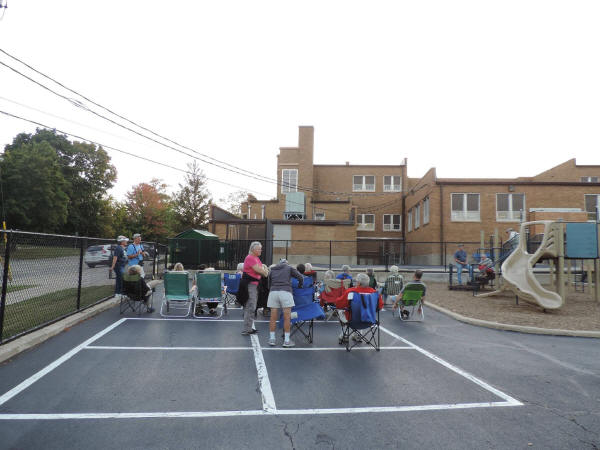 Some of the participants awaiting the arrival of the Chimney Swifts
at the Swift Sit at Lincoln Elementary School in St. Charles.
Photo courtesy Marion Miller.
---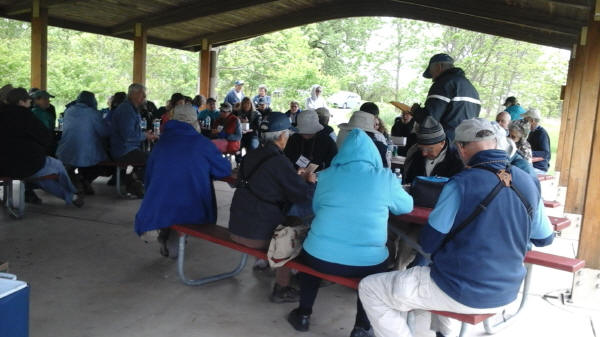 Birders compiling the weekend's birding totals for the 2017 IAS "Spring Gathering."
Photo courtesy Susan Malkowski.
After Kane County Audubon did a bang-up job of hosting the Illinois Audubon Society's "Spring Gathering" on May 19 - 21, President Bob Andrini issued this thank you to KCA members:

A very big THANK YOU to all the KCA members who helped support our hosting of the annual Spring Gathering for the IAS. 191 registrations, 138 meals on Friday and 154 meals on Saturday were only possible because of the MANY hands that worked together.
Although we only birded for a few hours on Saturday (due lightning - we did bird in the rain), and about 3 hours on Sunday, we still saw an amazing 139 species of birds. With the strange warbler migration we have been experiencing, we still saw 22 species of those amazing birds.
Thanks go out to many: trip leaders, food handlers, set-up crew, take down crew - and the list goes ON AND ON AND ON.

THANK YOU ALL - personally and from the KCA Board
---